Three Secrets to Wedding Dress Shopping Success
Shopping for your wedding dress is one of the most exciting aspects of wedding planning in my honest opinion. It's all about fashion and playing the best version of dress up there ever was. But it can also be a little stressful. So many dress, so many appointments, so many opinions! But I've got three easy rules to follow for a stress-free wedding dress shopping experience. I recommend all three of these rules to every bride I work with and every friend of mine who gets married. I'm not going to call it a science, but let's just say the proof is in the pudding.
Start Early
The biggest mistake I see brides making is not starting the process early enough. Most wedding dress designers need a minimum of 4 months to fulfill a dress order, with many needing upwards of 6 months. And once you have your dress in hand, there's still an additional 3-4 months of fittings with a seamstress. So when is the perfect time to start shopping? I always recommend somewhere between 9-12 months. This gives you plenty of time to do research, make a few appointments at bridal boutiques, and potentially come back for a second or third try-on before placing the order.
If you're on a time crunch and simply don't have a full year to plan, don't worry. Many designers offer rush orders for an additional fee. I should add though that the pandemic has added a layer of complexity to this as designers are backlogged and rush orders might not be as fast as they used to be. Definitely talk this over the bridal boutique and ask them when they expect your dress to arrive.
Another helpful tip if you're on a time crunch is to book your wedding seamstress in advance! Seamstresses book up months in advance and can be hard to get into. By calling them ahead of time and letting them know when you should be receiving your dress and when you will need it completed by, they can often plan ahead and make room on their busy schedules for you.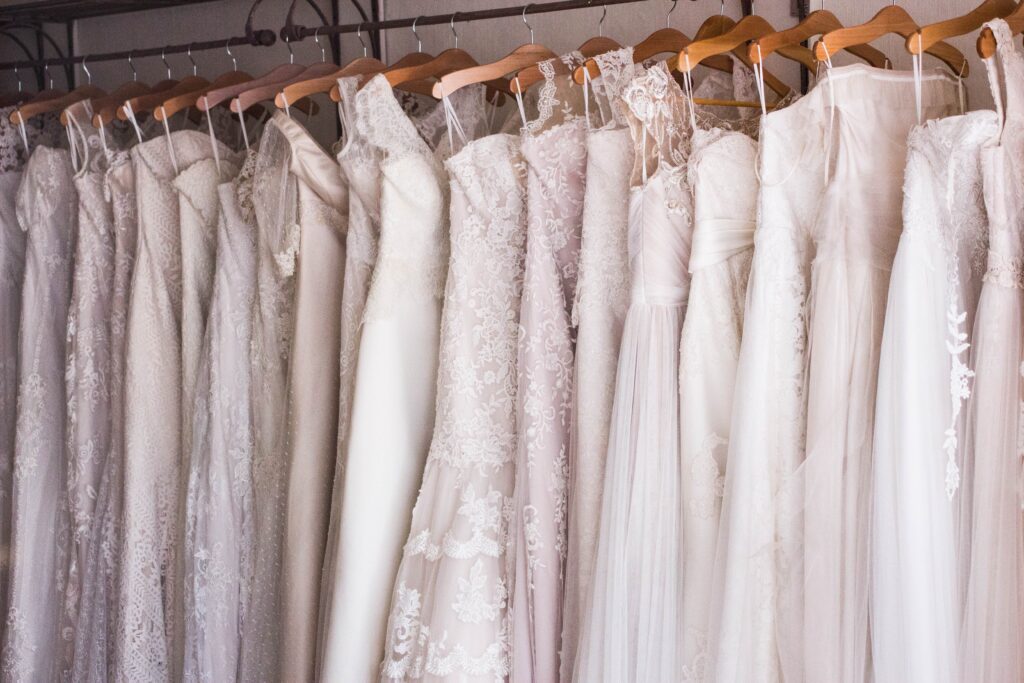 Keep The Crew Small
Another mistake I've seen brides-to-be make over and over again is inviting too many people to their wedding dress shopping appointments. It can be tempting to invite all of your bridesmaids, your aunts, your future in-laws, and so on, but keep in mind everyone will be coming equipped with their opinions. The amount of commentary can become distracting and overwhelming, especially if it's coming from people who don't really know you and your particular style. Therefore, I recommend inviting 2 or 3 key people to your shopping appointments. Mom, a sister or made of honor, and one more instrumental person if you must. Make sure whoever you invite is on your side, ready to support you and your bridal style.
If you feel obligated to invite more than 2 or 3 people, invite them instead to the wedding dress viewing. This happens once your actual dress is already in the store and you come back to try it on for the first time. This is a great time to try on veils and shop for accessories, so people can still feel involved in the process but the stakes are much lower.
One more helpful tip when it comes to the crew is to designate one person as the official photographer. That way you keep phones to a minimum and get consistent photos to look back on if you need more time to decide.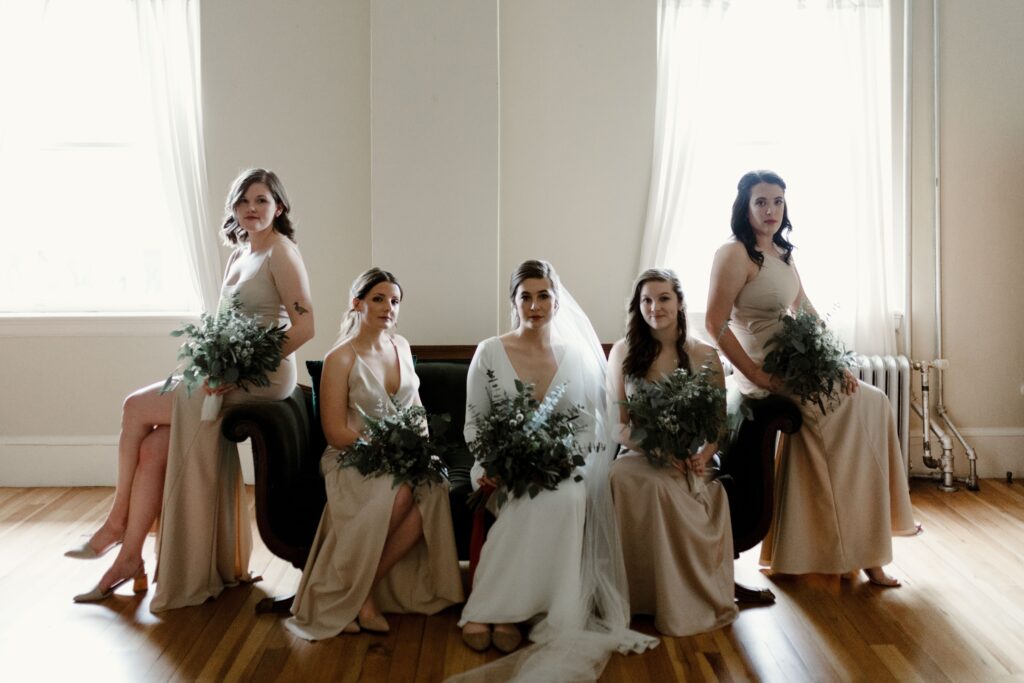 Keep an Open Mind
Even if you're a bride who knows exactly what she wants, it's always a good idea to keep an open mind when wedding dress shopping and trying on a few gowns that might not be you first choice. By breaking from the norm, at the very least you can reaffirm you're making the right choice. But on the other hand, I've seen many a bride tell me they are 100% absolutely not a ballgown bride and then they try on one ballgown just to "get it out of their system" and end up falling in love with it.
The reason this happens and why I tell brides to keep an open mind is because wedding dress shopping is so much more than the visual aspect of it. Gowns have a certain look but they also spark different emotions. A fitted gown might make you feel sexy. A ballgown might make you feel royal. An a-line gown might make you feel romantic. And depending on how you want to feel on your wedding day, the gown you end up with might not be the same one you had in your head. So go ahead, try on something a little unexpected. It might surprise you!
Ps. the same goes for veils! So many brides chafe at the idea of a veil, and it makes sense since it's not a normal thing we typically wear (unfortunately!). But once they try one on, 98% of the time, there's a little twinkle in their eye and they finally feel like *a bride*.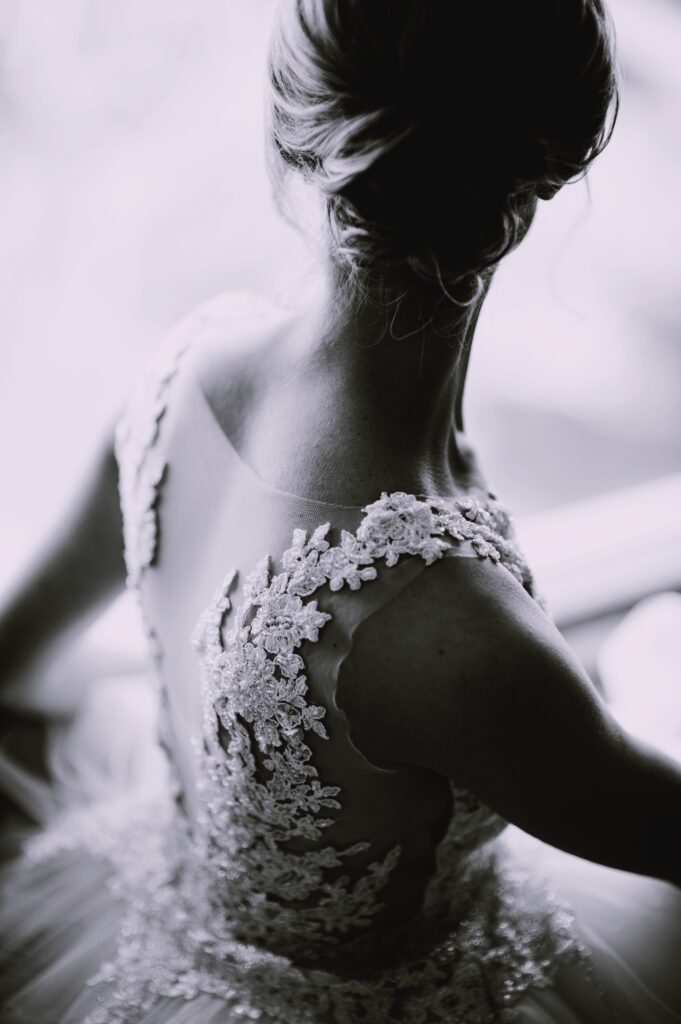 Conclusion
Wedding dress shopping is supposed to be fun and exciting! And by following my three little secrets you'll keep it that way. Because who has time for all that stress when you're planning a wedding?!
By the way – have you checked out my free guide: The Ultimate Wedding Dress Shopping Timeline? It's six beautiful pages full of so much good bridal info and helpful tips when you're on the hunt for the perfect wedding dress. Check it out!