SILK AND STYLE
MEET THE STYLIST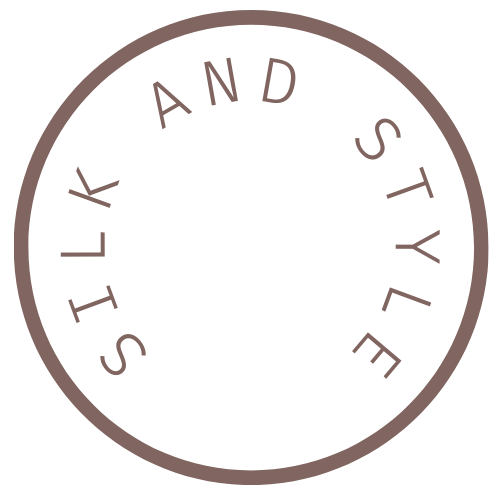 SILK AND STYLE
HOW IT ALL BEGAN
The moment I stepped into my first bridal boutique, I was hooked. The silky fabrics, the intricate beadwork, the bubbling champagne. It all whispered softly in my ear and it said, "Pssst…you belong here!"
But then I learned that even though it was true for me, it wasn't true for all brides. Many brides find the process of wedding dress shopping daunting. Even the ones who think they know what they want often feel like something just isn't right when they see it in person.
After working with hundreds of brides, I've learned that wedding dress shopping is so much more than picking between ballgown or mermaid, white or off-white (don't forget about diamond white, ivory, and pale ivory!)
Finding a wedding dress is really about emotions. How a bride wants to feel on her wedding day and what combination of fabric, design, and craftsmanship will get her there.
My process is all about keeping things simple and easy. I take on a lot of the heavy lifting (no seriously, some of those gowns are really heavy!), so my brides can focus on having a memorable experience and find a dress that truly speaks to them.
Over the years, I've worked in a bridal shop dressing hundreds of brides, I've attended New York Bridal Fashion Week as a buyer to find the latest and greatest dresses and designers, and I've worked with talented photographers and wedding planners to create stylized editorials for publications.
Now as a bridal stylist and personal shopper, I work directly with brides, helping them find that perfect dress, that perfect veil, so they can walk down the aisle feeling beautiful inside and out.
xoxo – Gina
Here's a little about me…
FAVorite place
Jackson Hole, WY
favorite show to binge
New Girl or SATC
MY birth chart
☉ Virgo, ☾ Capricorn, ↑ Libra
SECRET TALENT
Baked goods
I'D SPEND my whole paycheck on
Louis Vuitton
Drink order
Dirty martini with extra olives
next adventure
New Zealand
MOUNTAINS OR BEACH?
Mountains
forever ON REPEAT
Hamilton soundtrack
CURRENT obsesSion
Clean skincare
HOW I CAN HELP
Chances are, you've never done this before. But I've done it hundreds of times. I'll guide you throughout the entire process, keeping things easy, manageable, and stress-free.
As your personal style expert, I'll keep you and your vision front and center. Sure, friends and family will always have opinions but I've got your back.
Nothing like the pressure of planning a wedding, finding a dress, and getting it altered and ready in time. I'll keep you on schedule so you never have to sweat it.